Airlines Reporting Corporation (ARC)
Using empathy to shape enterprise cloud transformation
Overview
ARC helps airlines and travel agencies connect, grow and thrive by delivering flexible distribution solutions, innovative technology and access to the world's most comprehensive air transaction data.
Role
Lead UX Designer | Oct - Dec 2019
User Research, User Interviews, Journey Mapping, Persona creation, and Visual Design
Team
Nina Faircloth - Organizational Effectiveness Lead

Sasha Strickland - Learning & Development Lead
Challenge Accepted!
The Airlines Reporting Corporation (ARC) engaged Slalom to help them migrate ARC's IT functionality to the Cloud. Experience Design and Organization Effectiveness consultants were brought on to partner with ARC to enable the adoption of new roles and responsibilities, technology, and processes, as a result of the migration. We realized when speaking with the client and employees that it was a crucial need to effectively communicate (in-person and digitally), train, and upskill ARC employees in less than six months.
Learning to Lead with Empathy
To better understand how ARC will be shifting their capabilities to become more competitive and to better serve their clients and users, we conducted over 20+ interviews. We spoke with Senior Leadership, People Managers, and employees who would be directly impacted by the transformation. Through the interviews we gained a better understanding of individuals' experience leading up to upskilling training and to identify pains and gains they are experiencing through the process so far.
Through this process we learned that ARC was not directly communicating with their employees one-on-one and the employees who were most impacted did not feel heard or seen. Since conversations between employees and senior leadership were not held, training was being selected blindly in most cases. ARC was not aware of the impact that the transformation had on their employees during this dramatic change. Our research and interviews gave employees a platform to voice their experience and gave us an opportunity to provide recommendations by creating personas, user journey maps, and learning journeys. The personas helped us better understand employees training needs, goals, and upskilling experience. These personas were used to put together user journey maps to help outline the employees' experience, frustrations, and opportunity areas from when they first learned about the digital transformation to their first week officially starting upskill training. Lastly, we created learning journeys, these were monthly training recommendations for each technical role.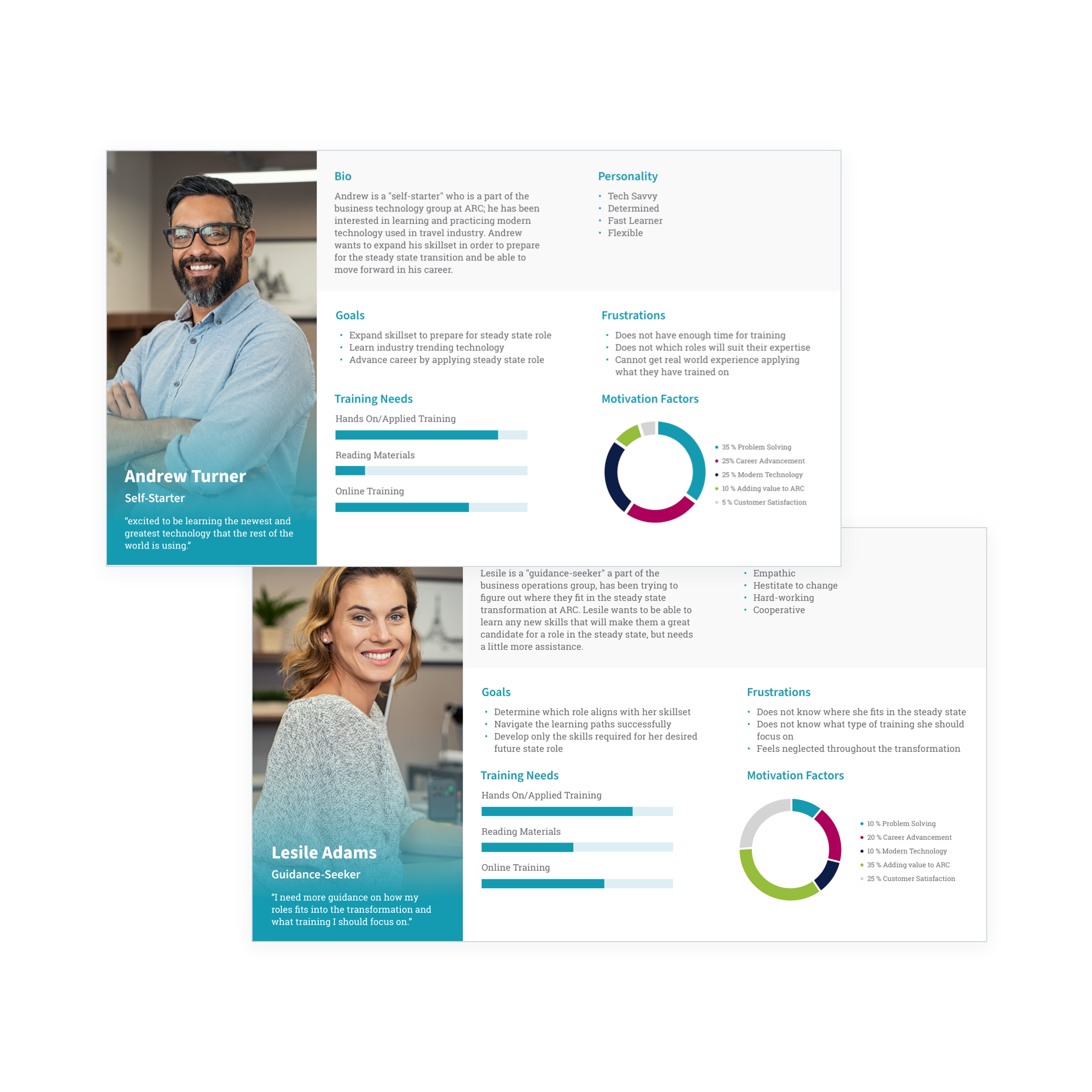 Get to Know Your People
After conducting user interviews, I synthesize our findings, From the synthesis we determined To help guide stakeholders through our findings from our interviews, I put together three personas that represented ARC employees going through the transformation process at that time. These personas were able to give the client a closer look at their personality goals, frustrations, training needs, and motivations, which later will help the stakeholders determine future trainings and learning journeys.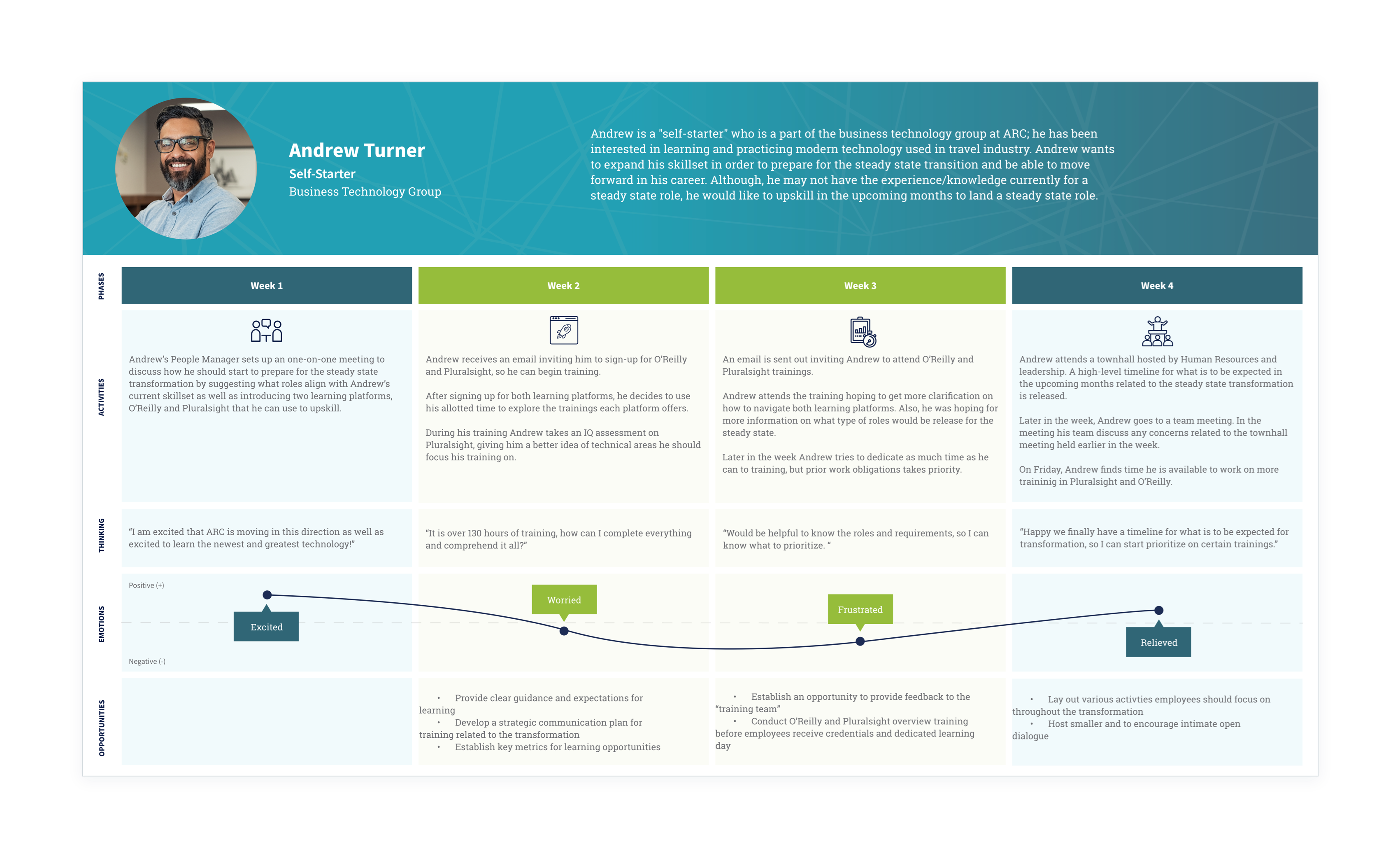 Identifying Gaps & Opportunities
After creating personas, I decided to create journey maps for all three personas. These user journeys helped the client better understand what employees were feeling and thinking during the beginning stages of the transformation. These journeys identified frustrations, and opportunity areas from when employees first learned about the digital transformation to their first week officially training to upskill. Showcasing this information helped Human Resources think of ways to roll out future transformations and upskilling opportunities. Also, the journeys helped People Managers determine when and how to have ongoing conversations with their direct reports.
Customized Learning
Working closely with our Learning and Development lead, Sasha we were able to put together learning journeys, a suggested curriculum for each role that would be implemented during the migration to the cloud. Each learning journey was individually customized to ensure employees' learning needs were properly addressed. We considered a variety of training and types of learning since we discovered in our interviews people learn in multiple ways.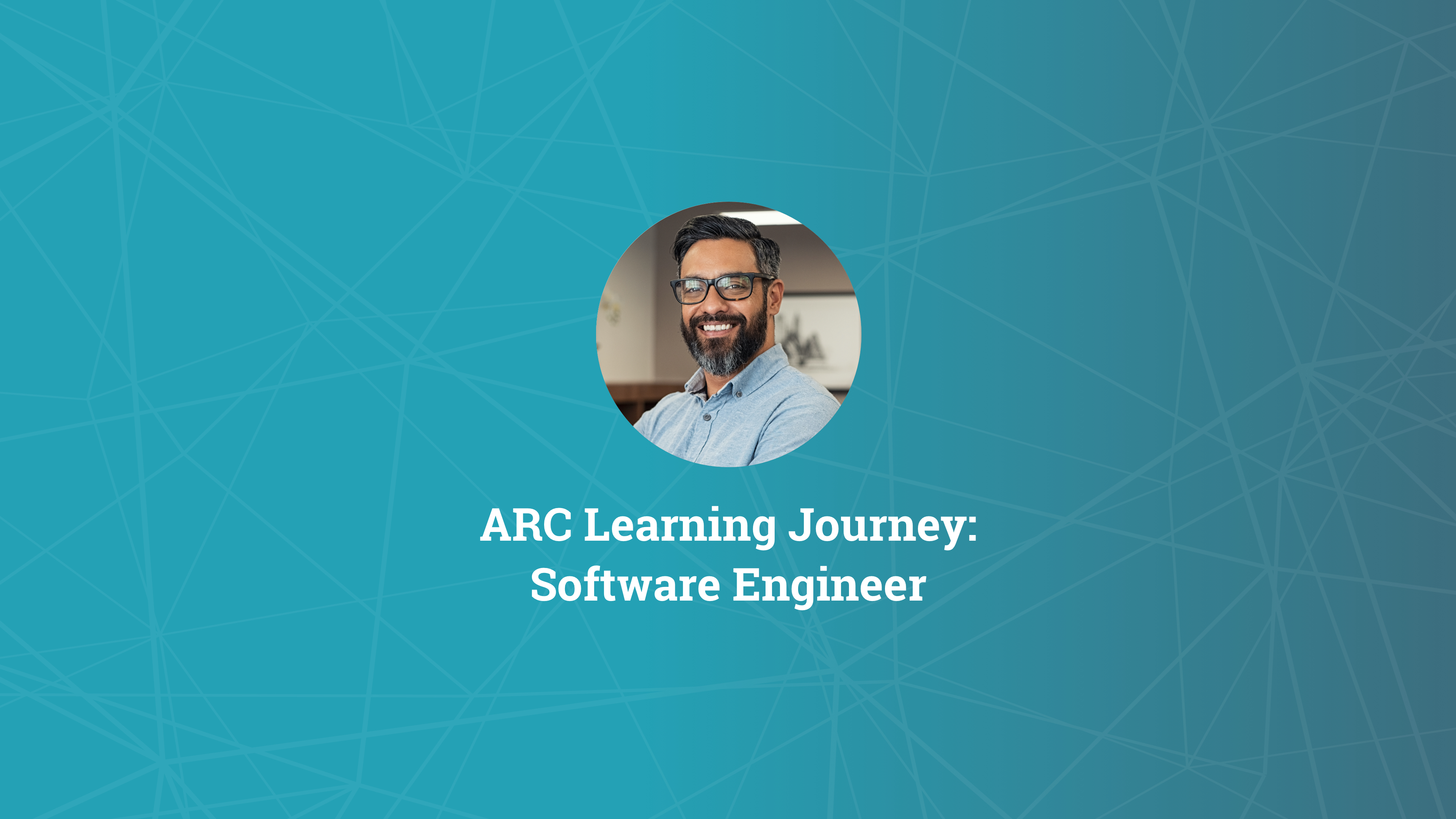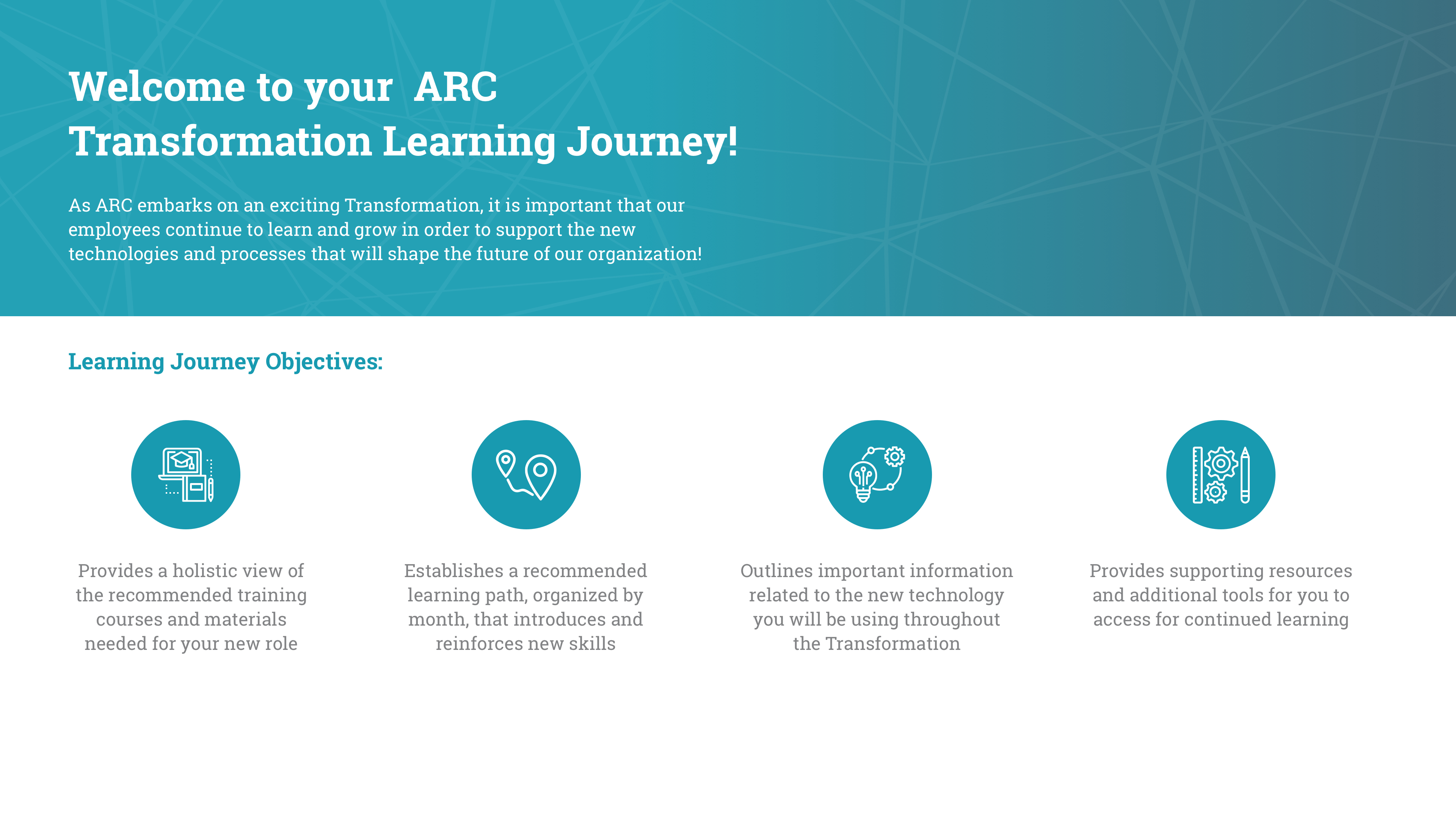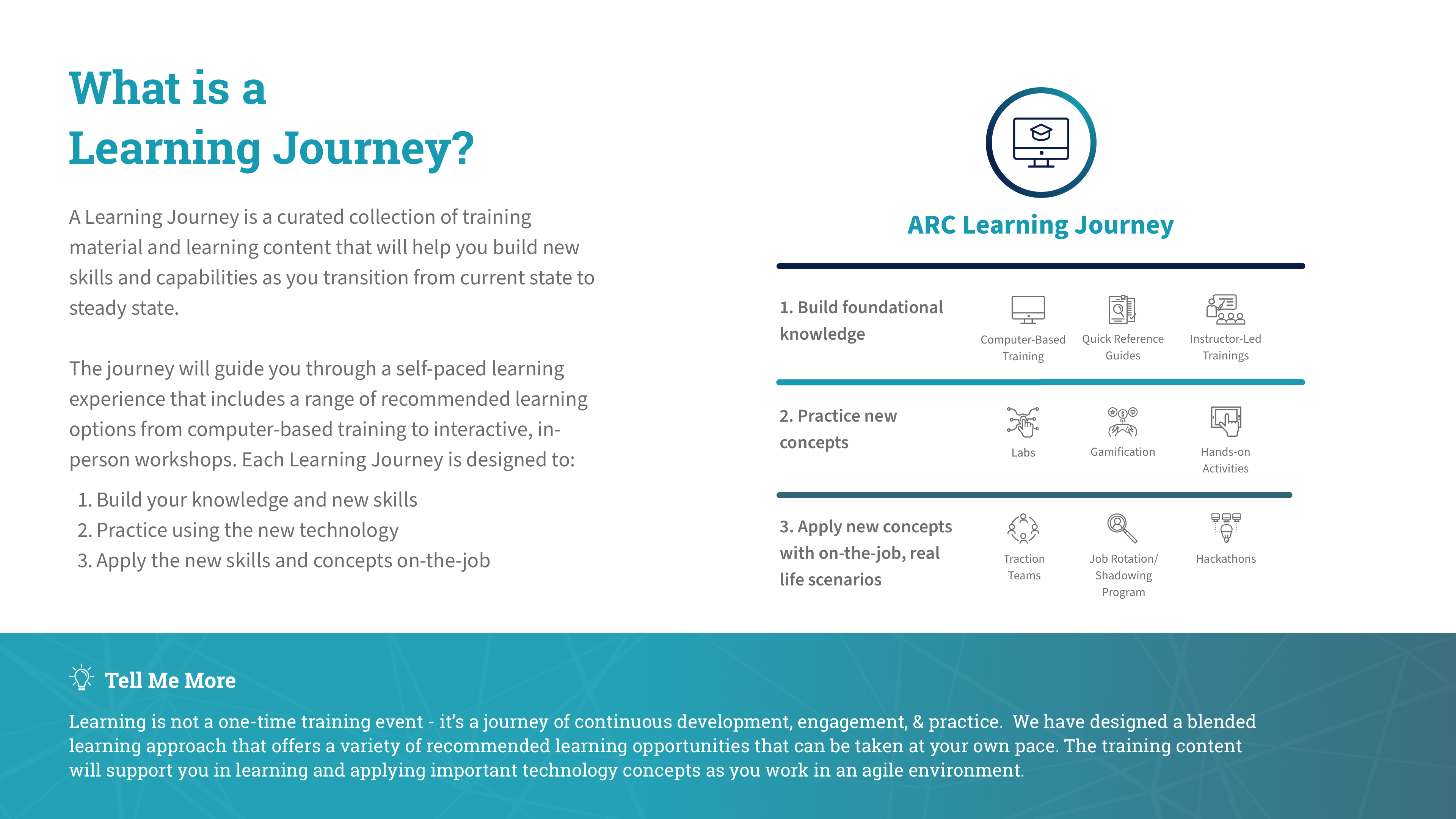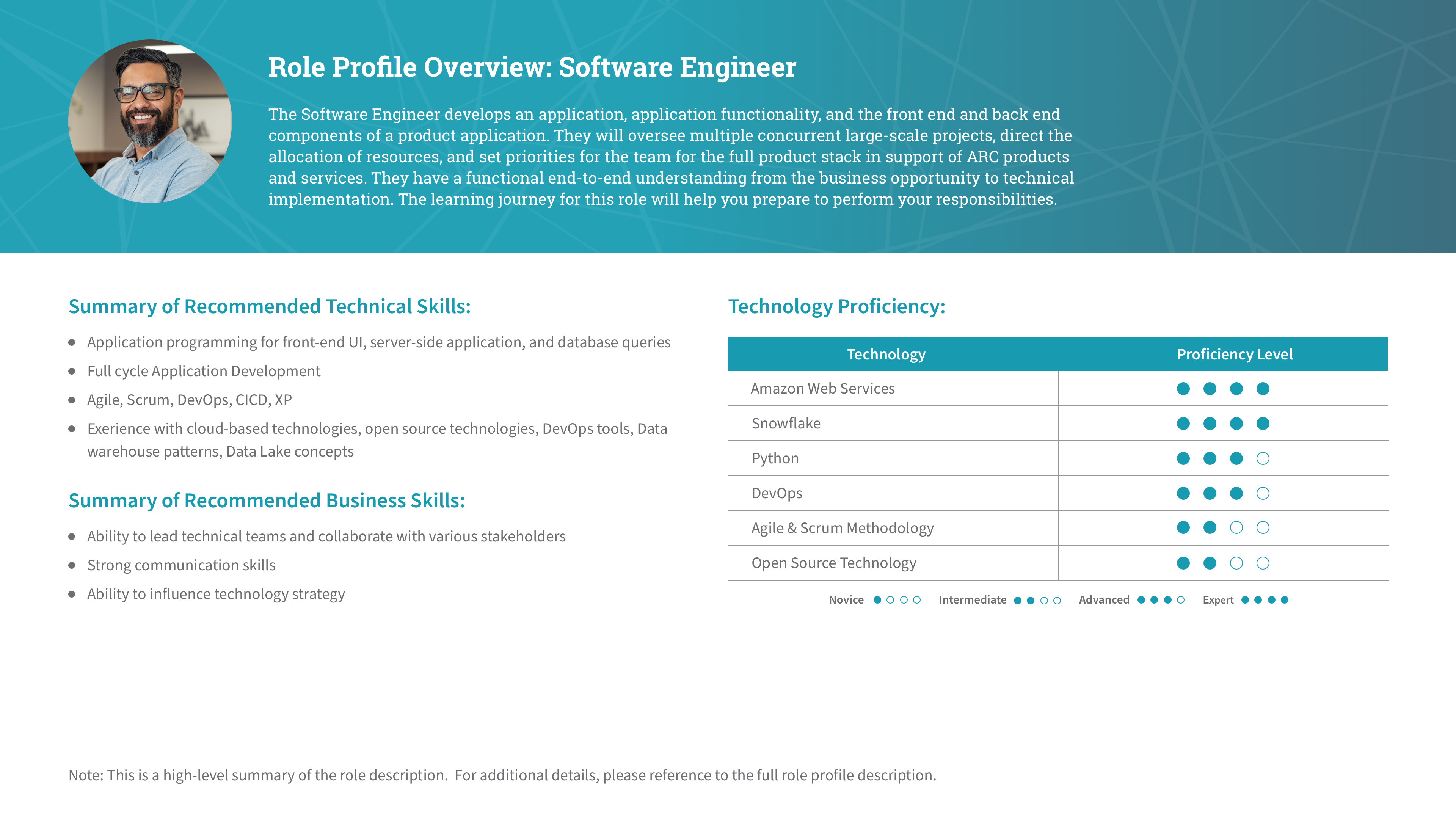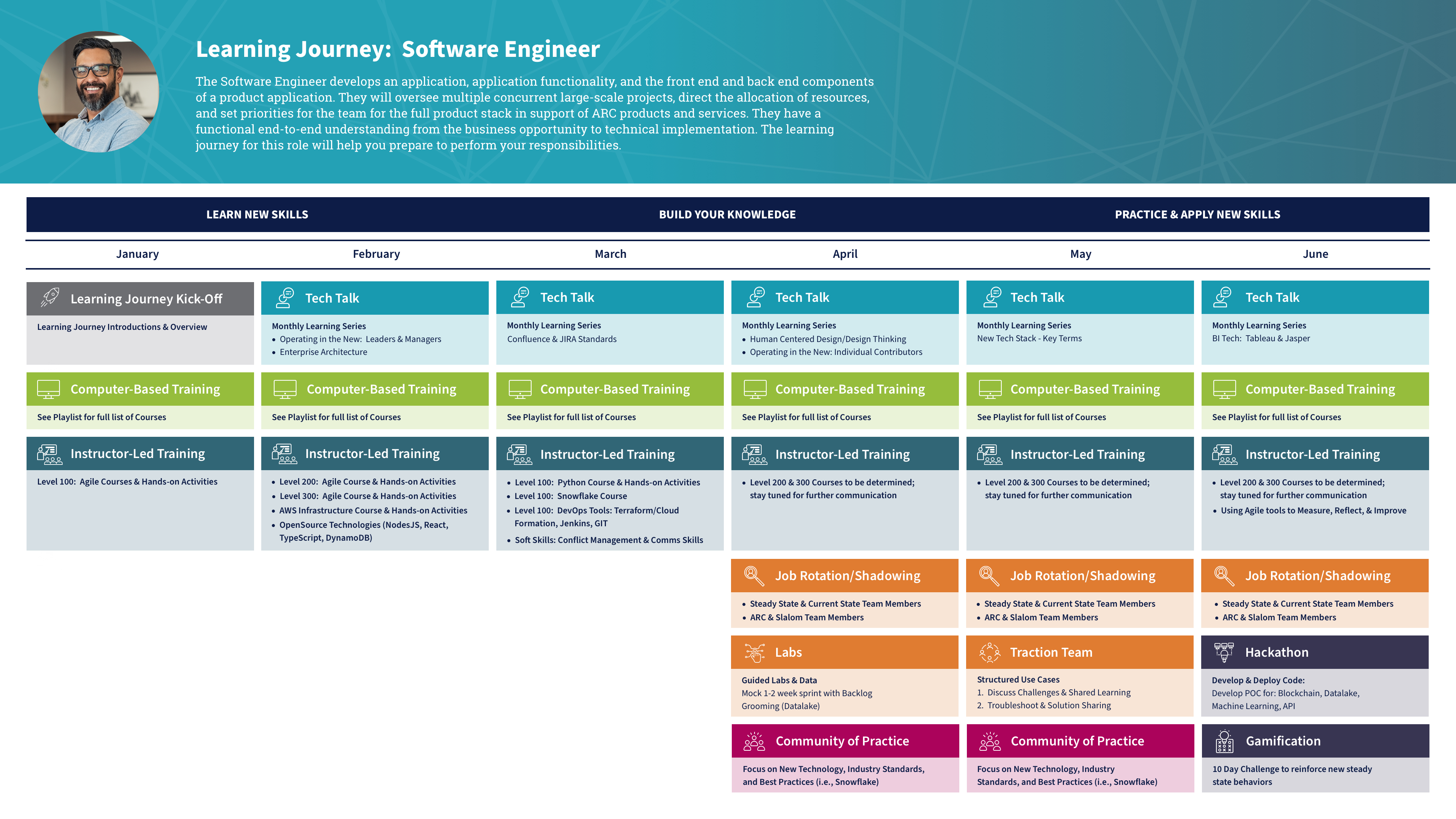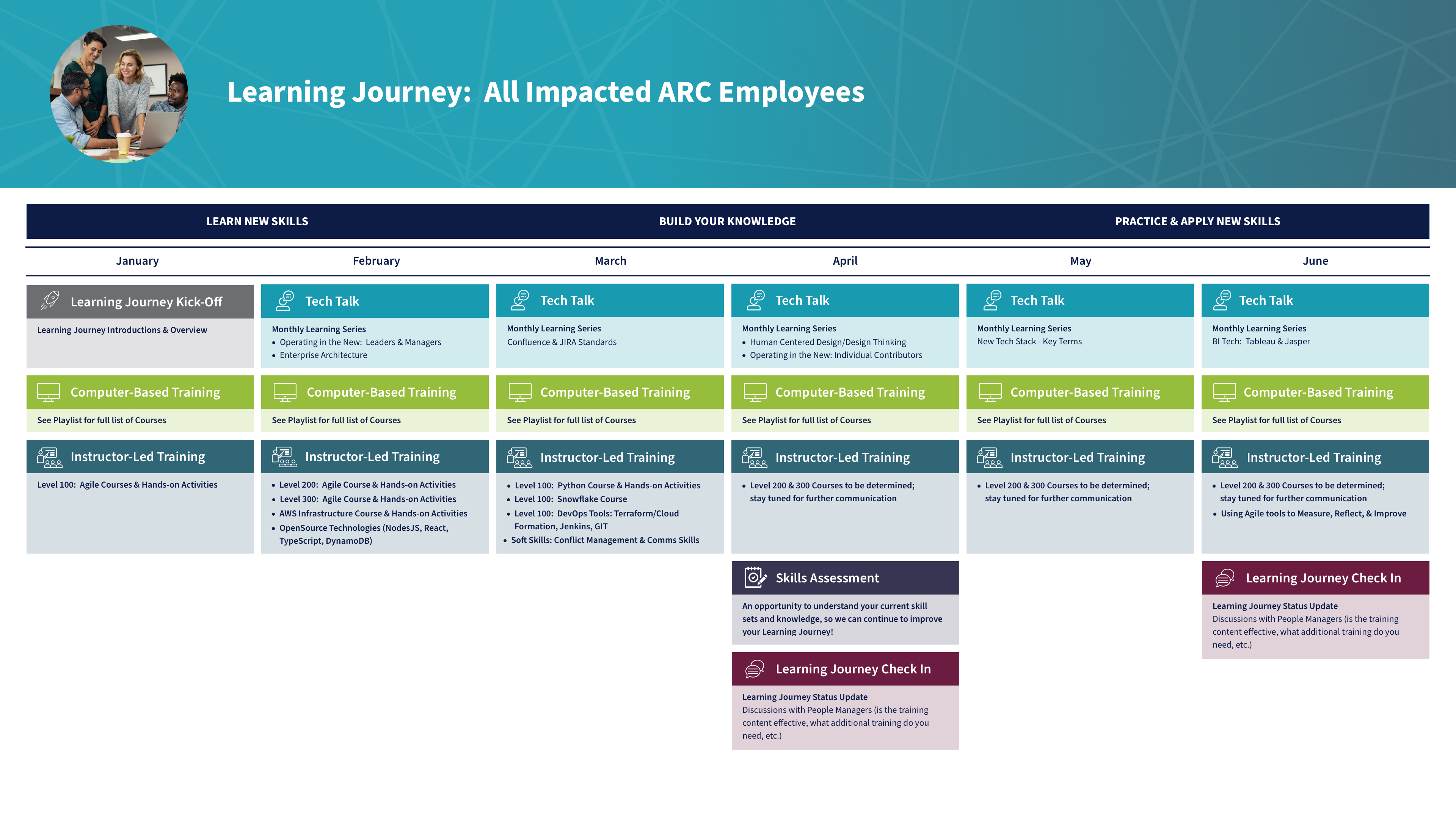 Project Takeaways
During our time at ARC we enabled better aligned training that more closely matched stakeholder needs. Also, we connected leaders with how employees might be experiencing changes resulting from ARC's migration to the Cloud. Through this connection managers across the organization were enabled to better communicate with their teams and share information about the transformation. Due to COVID-19 ARC the transformation was delayed, so hiring and upskilling was put on hold.
Lastly, Slalom's DC office learned that XD and OE consultants can and should collaborate on more projects. By flexing skill sets and capabilities across the project helped build the best possible products with ARC end-users in mind. Lastly, our office learned that driving activities from a place of empathy can enable successful engagement with stakeholders and help maintain the focus on the users.