igotu_
A black mental health app made to be a friend that has users' back during their mental health journey no matter the place, time, or location and made with the black experience in mind.
Overview
Every year AIGA DC hosts SHINE, a four-month mentorship program. SHINE matches mentors and mentees around the DC design community looking to connect, challenge each other to grow, and collaborate on a project focused on civic engagement.
Role
UX & UI Design | February - June 2021
User Research, Persona Creation, Information Architecture, Brand Design, and User Interface Design
Design Mentor - Dan Banks
Tools
Adobe XD

Adobe Illustrator

Mural
So Many Passions
As a mentee, I was excited to be a part of the SHINE 2021 cohort. I love getting the opportunity to connect with fellow designers and creatives in Washington, D.C. Also, I am always looking for ways to develop my craft as a designer.
During my first meeting with my mentor, Dan, we discussed my interests and what areas cause I was interested in exploring for my design for a good project. I had so many different causes I am passionate about, from domestic violence, art programs in public schools, virtual learning for public schools, and black mental health. So, how did I narrow my project topic? I created a mind map to get my thoughts and ideas out of my head. From there, I looked at each cause's mind map to see which had the most stickies.
I landed on mental health within the black community. I am passionate about this topic because I've seen friends and family struggle with mental health. Also, it is a topic the black community is now just starting to discuss openly due to many stigmas.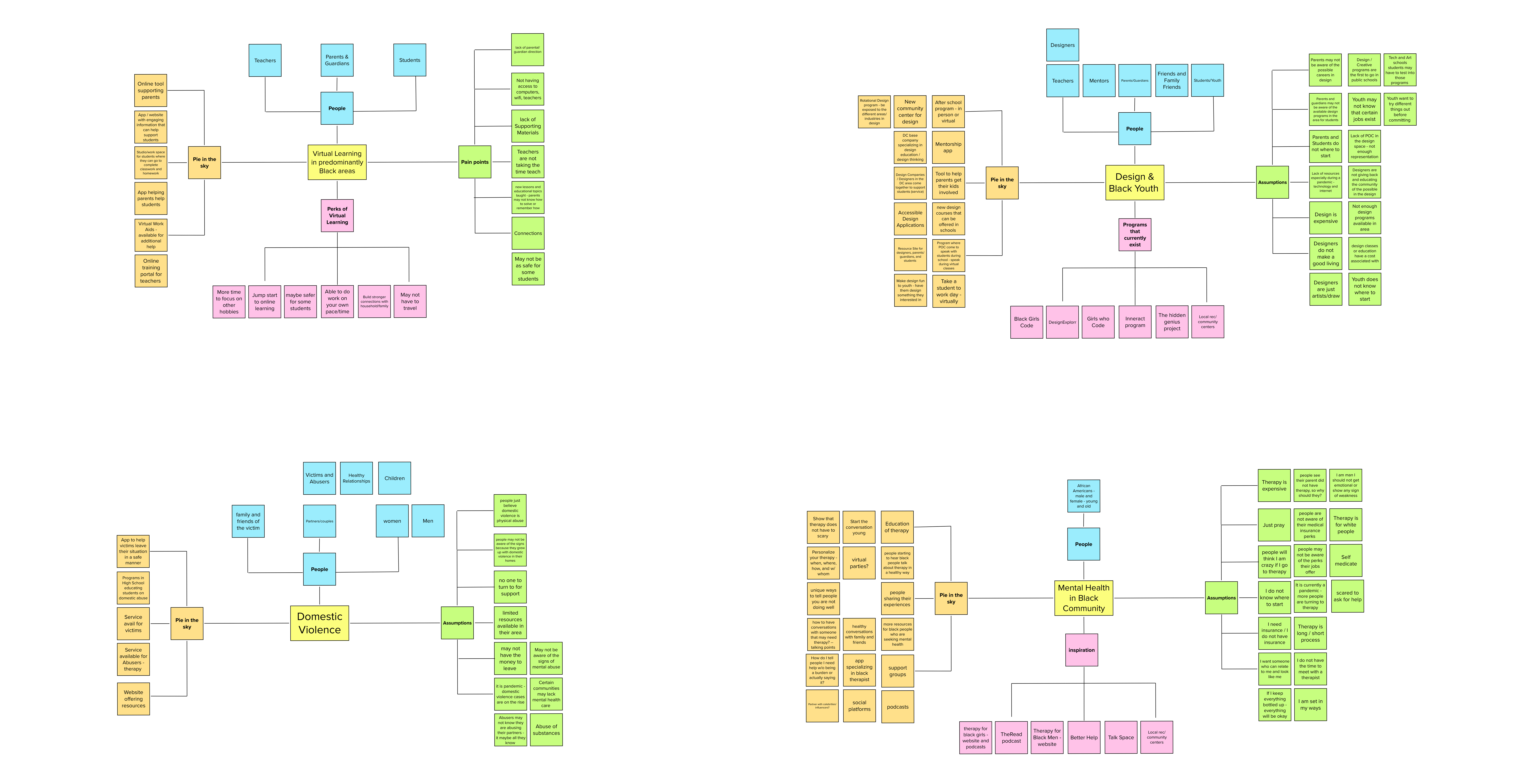 Determining the problem
According to the Columbia University Department of Psychiatry, research suggests that the adult Black community is 20% more likely to experience serious mental health problems. Additionally, Black young adults experience higher rates of mental health problems and lower rates of mental health service utilization compared to White emerging adults and older Black adults.
Multiple barriers contribute to this problem.
Stigma

Distrust in healthcare

Lack of diverse providers

Lack of culturally competent providers

Lack of insurance, underinsurance
Hypothesis
We believe that creating a mental health app for black adults will help them find the proper support to help restore their quality of life. We will know this to be true when we see more adults from the black community starting to take control of their mental health by attending therapy sessions regularly and practicing healthy coping mechanisms.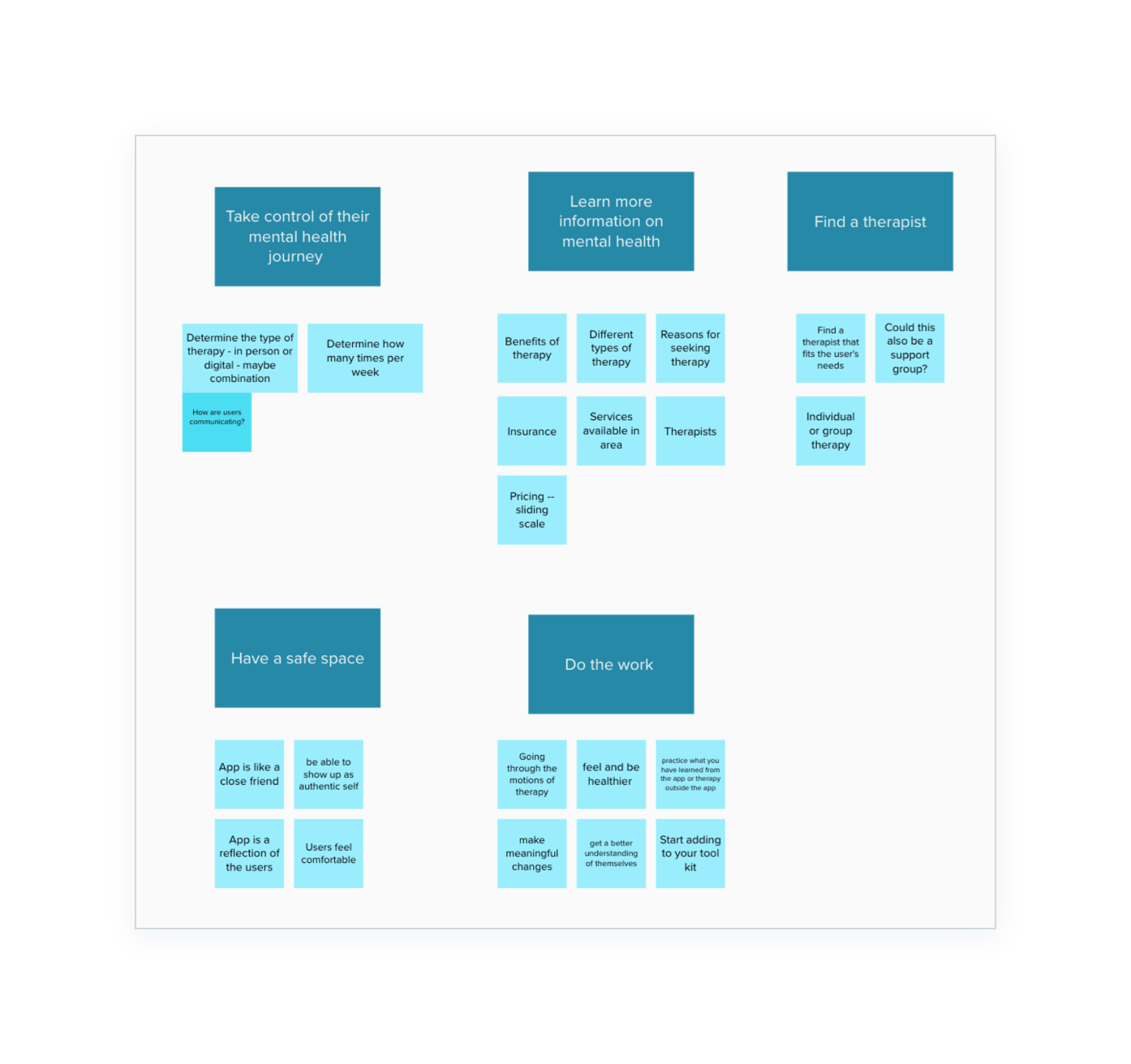 Who, What, When, Where, and How?
My design for a good project will be a mental health app for black adults in the DMV (D.C, Maryland, and Virginia) area.
Next, I determined the user goals listed below.
Users take control of their mental health journey.

Learn more information on mental health.

Find a therapist

Have a safe space

Do the work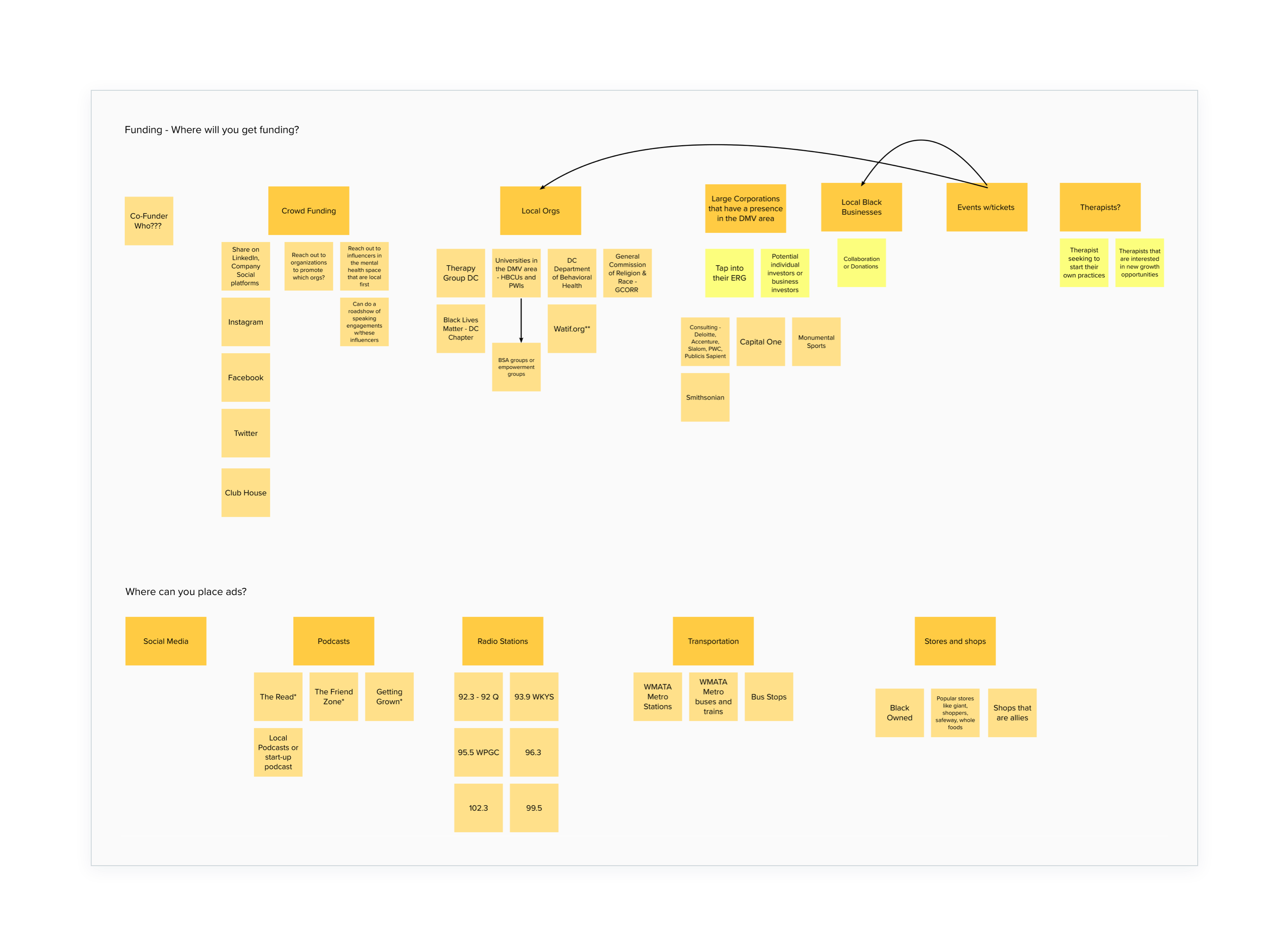 Meeting our audience where they are
Next, I began to think through funding and ad placement. Dan thought it would be great for me to start thinking about how I would pitch my design for an excellent project to potential investors.
I thought it was important to understand mental health resources already available in Washington, D.C. Also, opportunities to tap into the tech and consulting firms, especially since more companies are pushing for a better work-life balance and equity. We figured companies would also benefit by their public reputation improving because they are taking a stance on mental wellness.
After considering funding opportunities, we moved on to advertising and how I would get the word out about this new mental health app. Instantly, I thought, why not meet our audience where they are? I started to ask myself the following; how is my audience getting to work in the city? Where is my audience shopping? What type of media are they interacting with daily? Also, what companies care about the well-being of black individuals?
Competitor Analysis
After considering funding and advertising, I began comparing and analyzing popular mental health apps. I did a deep dive on each platform's unique approach, selling points, services, cost, features, and reputation.
To do the competitive analysis,I downloaded all of the apps listed in the table below to get a sense of the onboarding process, connecting/matching with license therapists, pricing, and functionality from the point of view of someone who is not familiar with therapy. I found a lot of the competition did not offer a sliding scale for users who that maybe interested in treatment. The price to use their apps ranged from $65-99 per week. This is quite expensive; I began to think about users who may not have the means to pay for therapy every week. Also, the majority of the apps did not have a diverse therapist selection, which was a major red flag. Suppose these companies are using black influencers and celebrities to bring in a diverse audience. In that case, they can at least have more diverse therapists (life experiences, sexual orientation, gender, and race) that can truly identify with this demographic, as well as try to make the services more affordable and accessible.
Talkspace and BetterHelp were the top contenders due to their reputation, price, features and app functionality.

Brand Discovery
Throughout the discovery process, Dan and I had numerous conversations about the app's look and feel and how we envisioned users to talk and interact with the app. Throughout this process, I kept thinking that I wanted this app to be a safe space for black individuals.
From there, I thought, who do people usually turn to when they want a space to vent or gain insight without being judged? A friend, a true friend who has your best interest in mind, would provide those things. Next, I went into Mural (example below) to get my ideas out. I started to think about qualities most people would want in a friend. Since the app will act as a friend to the user, we asked what this friend would provide? These will later inform the features of the app.

Determining the app's name
One of the last steps in discovery was determining the app's name. I was struggling with this until I did another mind map. First, I started by describing the app (blue stickies in mind map); next, I created orange stickies describing the blue stickie with words or phrases that came to mind. From there, I was able to determine the app name, igotu_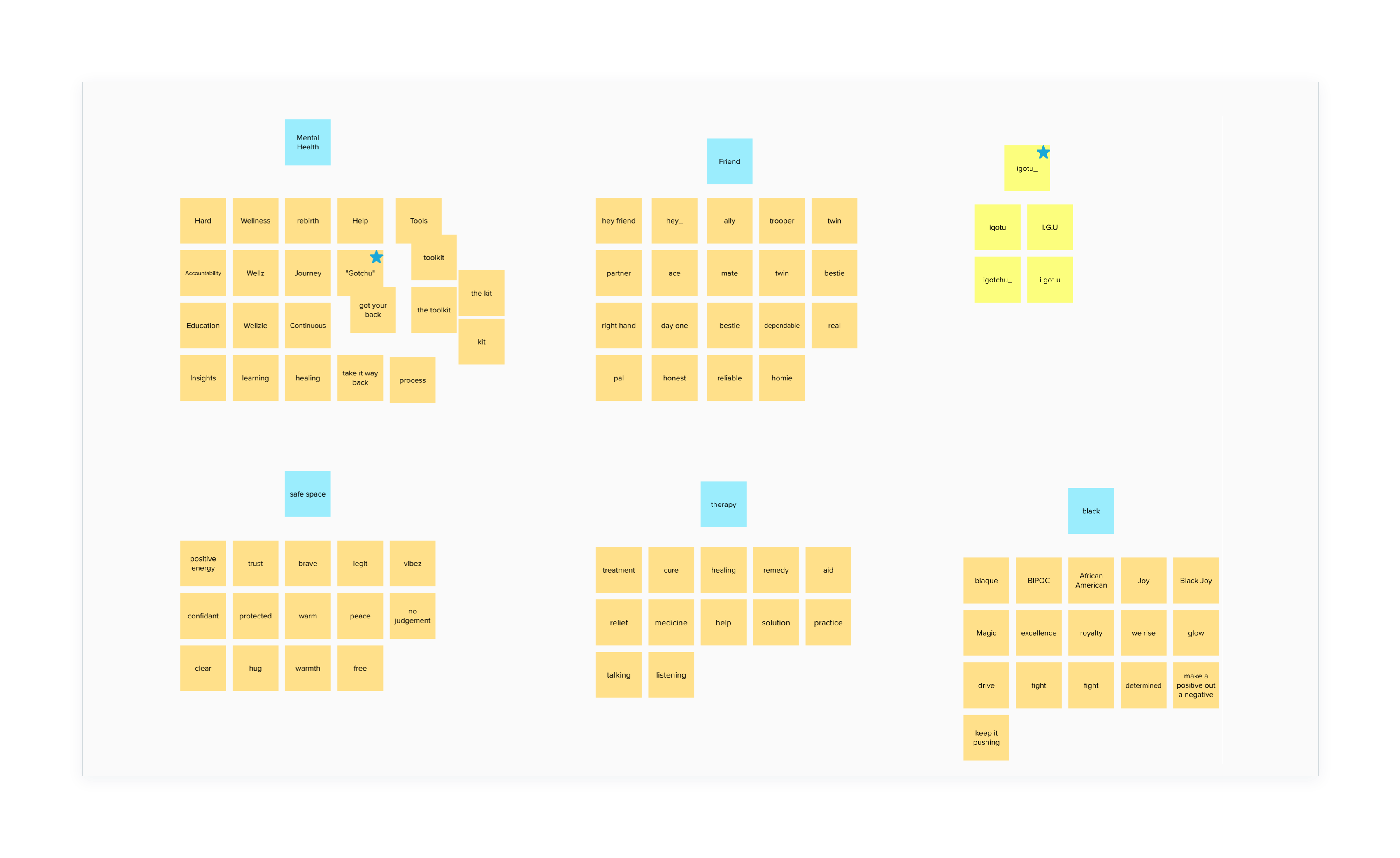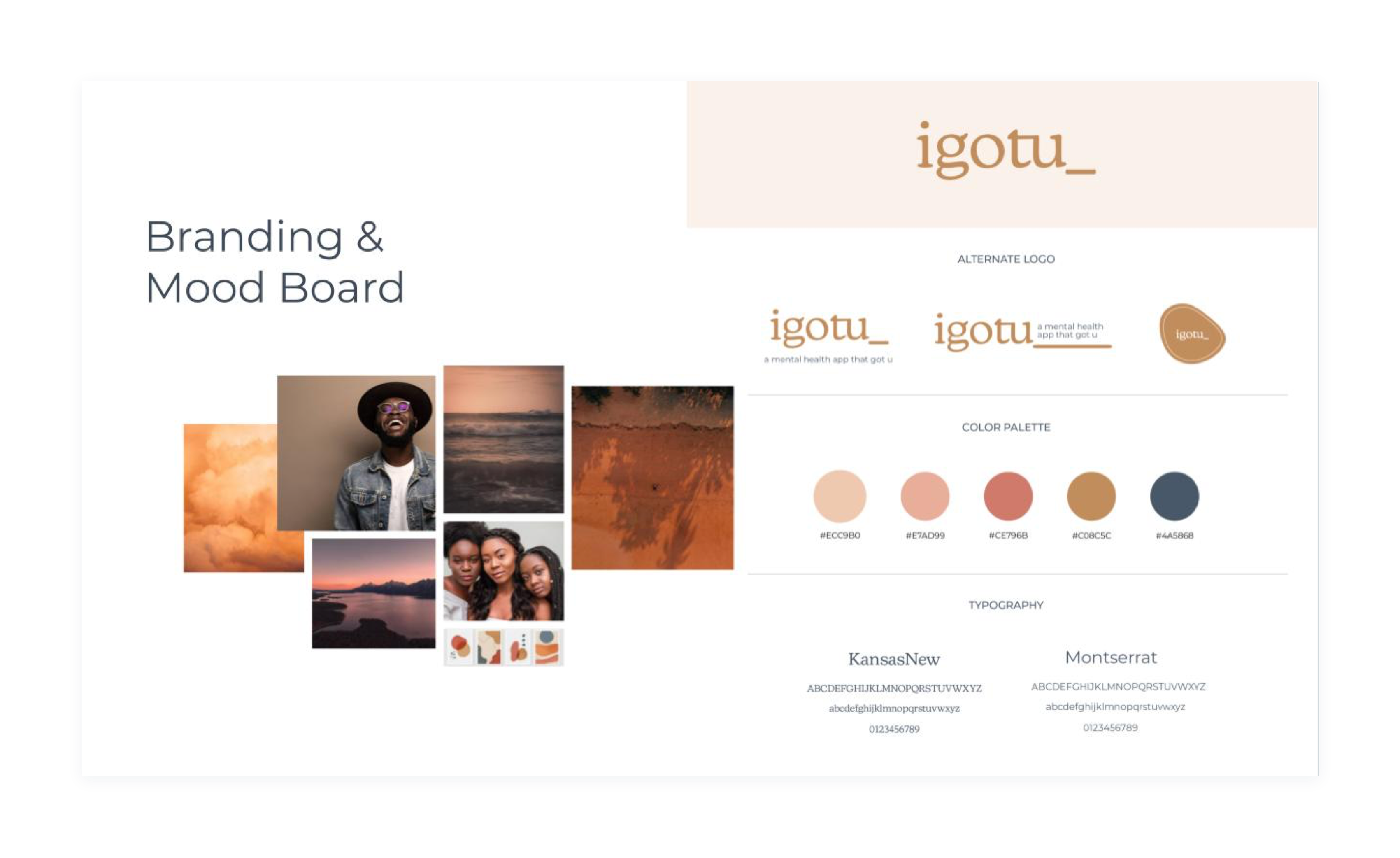 Developing the look and feel
The discovery work helped create the logo and visual design for igotu_. I wanted the look and felt to reflect black people's beauty and diverse experiences. Also, I wanted users to feel calm and relaxed when using the app. My inspiration came from nature, contemporary patterns, and black culture.
The birth of igotu_
A black mental health app made to be a friend that has users' back during their mental health journey no matter the place, time, or location and made with the black experience in mind.
App Features
Therapist matching - users can match with a licensed therapist based on their criteria, for example, gender, specialties, insurance, price, and sliding scale. Also, users can set up a free in-app 15-minute call with therapists they are interested in. Users do not need to connect with a therapist to use igotu_, especially if they are not ready to commit.

Mental health progress tracker - users can track their mental health progress. Users can work with their therapist to set up milestones and goals, or users can set up their purposes. This tracker will measure the user's mood, in-app activity, and therapy progress.

Messaging and video calls with a therapist - depending on the plan, users can send in-app messages to their therapist no matter the time or place. Also, users can have their face-to-face therapy session in-app as well.

Mental health exercises based on mood - users will be asked about their philosophy when searching for activities. These exercises range from yoga, meditation, cardio, and breathing.

Mental health articles - all users will access the articles by therapists or featured mental health and wellness writers to help enhance users' quality of life.
*You can click through screens for the existing user experience through the prototype here