VisionMent
A mentoring app to connect visionary women in the creative industry
Overview
VisionMent is a one-stop-shop professional networking app for female creatives. VisionMent allows users to match, instant message, and schedule video calls with mentors, mentees, and creative buddies. Also, the app encourages users to become more involved in their local creative communities by promoting local and virtual events that users can attend.

*Conceptual Project
Role
UX & UI Designer | Feb - May 2019
User Research, User Interviews, Persona creation, User Flows, Prototyping, Wireframes, and UI Design
Can't See It, Can't Be It
Women creatives struggle to find networks where they can connect with other females in their industry to help enhance their personal and professional growth. Two of the main reasons women struggle to find a successful mentorship is that they do not have access to it in their current work environment or do not know where to start.
Our solution is to develop a networking app exclusive to women in the creative industry. By creating a space for women creatives, they will get the opportunity to see and meet successful women in the industry, encouraging them to take control of their professional development. If women can see successful women, they know they too can succeed in their careers.
What Can Be Done?
We believe that by developing an exclusive space for women creatives, they will see and meet successful women in the industry, encouraging them to take control of their professional development. If women can see successful women, they can start to realize they too can be successful in their careers.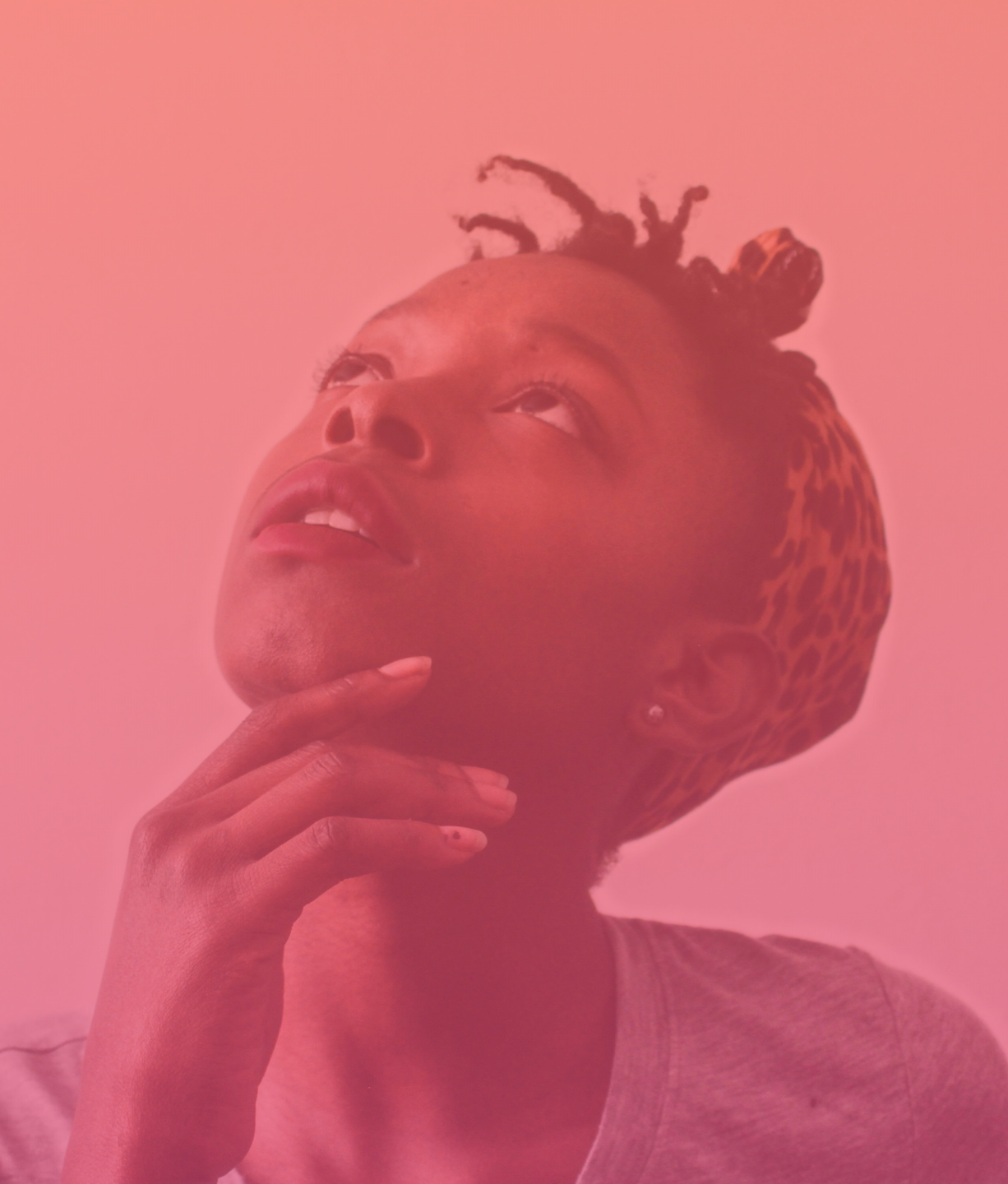 Top 5 Assumptions
To kick off the discovery process, I started with my top 5 assumptions about why women creatives do not seek out mentorship opportunities—starting with assumptions helped to get my own bias out of the way before speaking to users.
Intimidated to reach out to someone for career advice.

Rejected or ignored in the past when they reached out to people for career advice.

Too busy to find the time to meet new people and/or attend events.

Too expensive to network with others in the city.

Do not know where to start.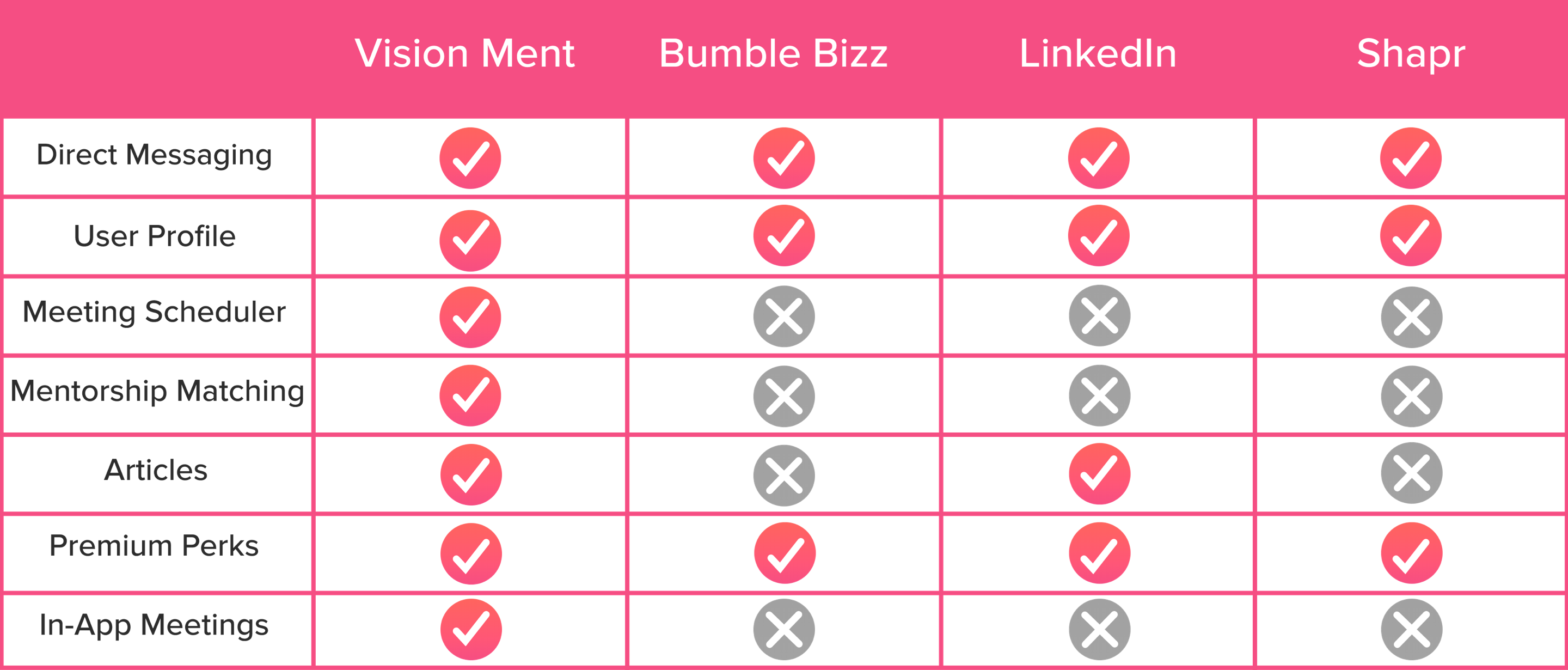 Competitive Analysis
Next, to better understand professional networking apps currently out on the market, I did a competitive analysis. This research led me to identify features, functions, flows, and a first-hand look at the overall user experience. From the competitive analysis, I discovered what the major networking apps were lacking and what features were great. My findings later informed my strategy to design a product and experience that is different and superior to VisionMent's competitors.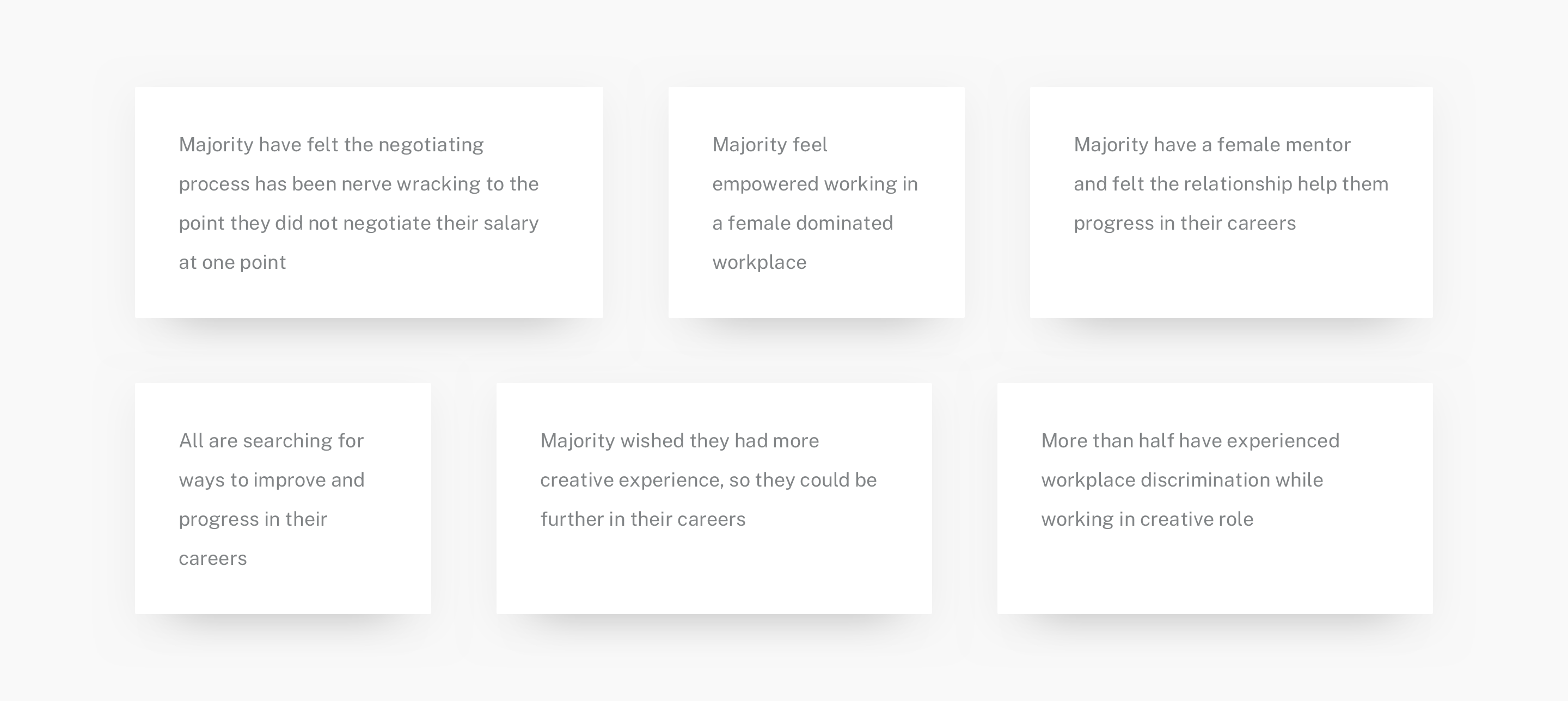 User Interviews
I interviewed nine females with a creative background and various years of experience (junior, mid, and senior) in the following creative fields; UX|UI Design, Graphic Design, Fashion Visual Merchandising, Marketing, and Content Strategy. The interviews informed UI, functionality, and interaction decisions for the VisionMent app.
During the interviews, I was curious about each women's daily routines, aspirations, and workplace experiences, including highs and lows. I wanted to know this information, so I can understand how to meet women in the creative industry where they are and their needs regarding career progression and mentorship.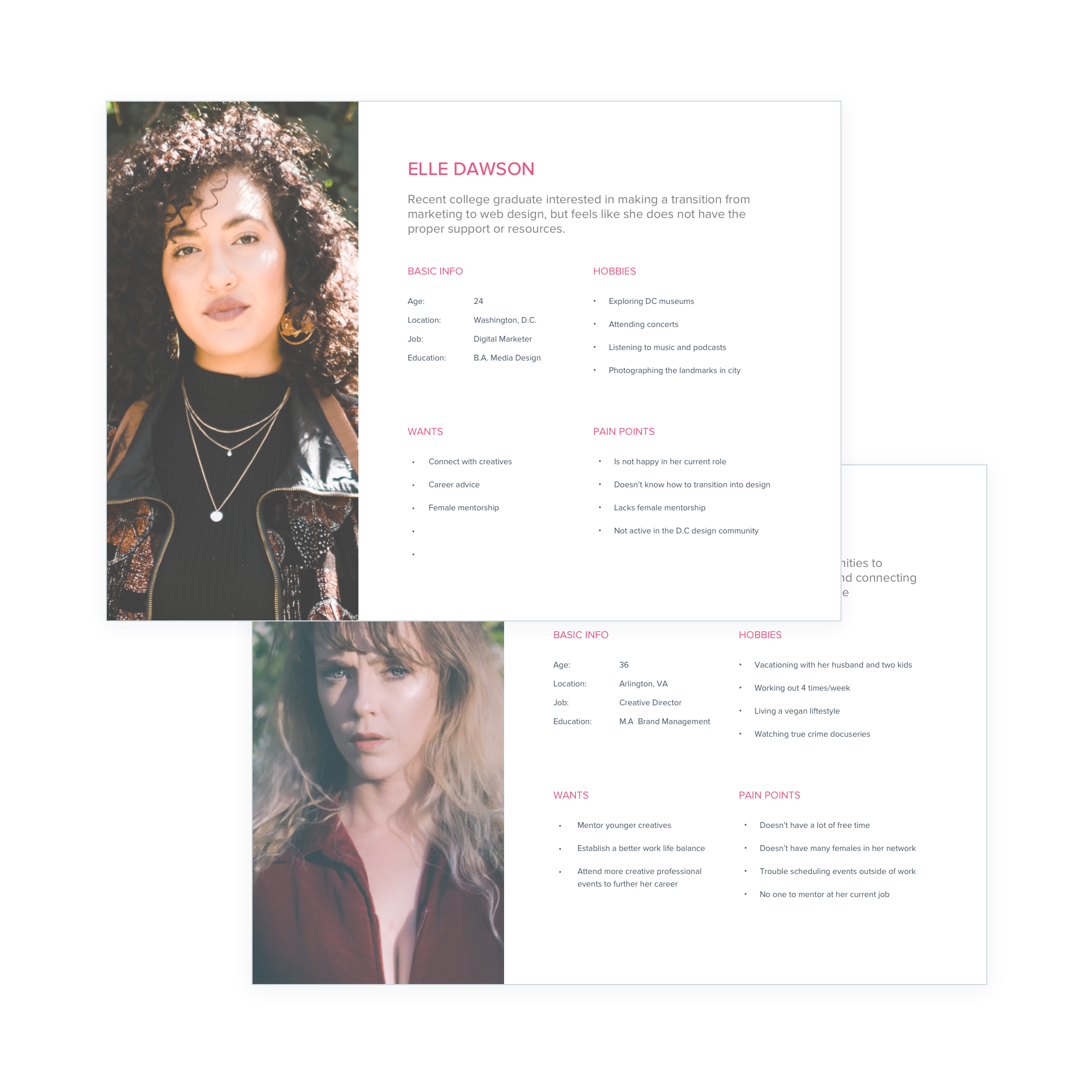 Personas
Based on the interviews I set up three personas. We referred to them throughout the entire product development process. The critical personas created for VisionMent:
Elle Dawson (Junior Creative) is early in her career and is trying to make a career transition into the design industry. She is actively searching for a design mentor but does not know where to start.

Eliza Quinn (Mid-Level Creative) is a few years in her career. She is looking for ways to keep growing within her industry as a leader and creative. She is seeking mentorship opportunities where she can be either a mentor or a mentee.

Jackie Becker (Senior Creative) is an experienced creative with over eight years of experience. She is looking for opportunities to provide mentorship and career coaching to younger creatives. However, with her busy schedule, this can be difficult.
Information Architecture (IA)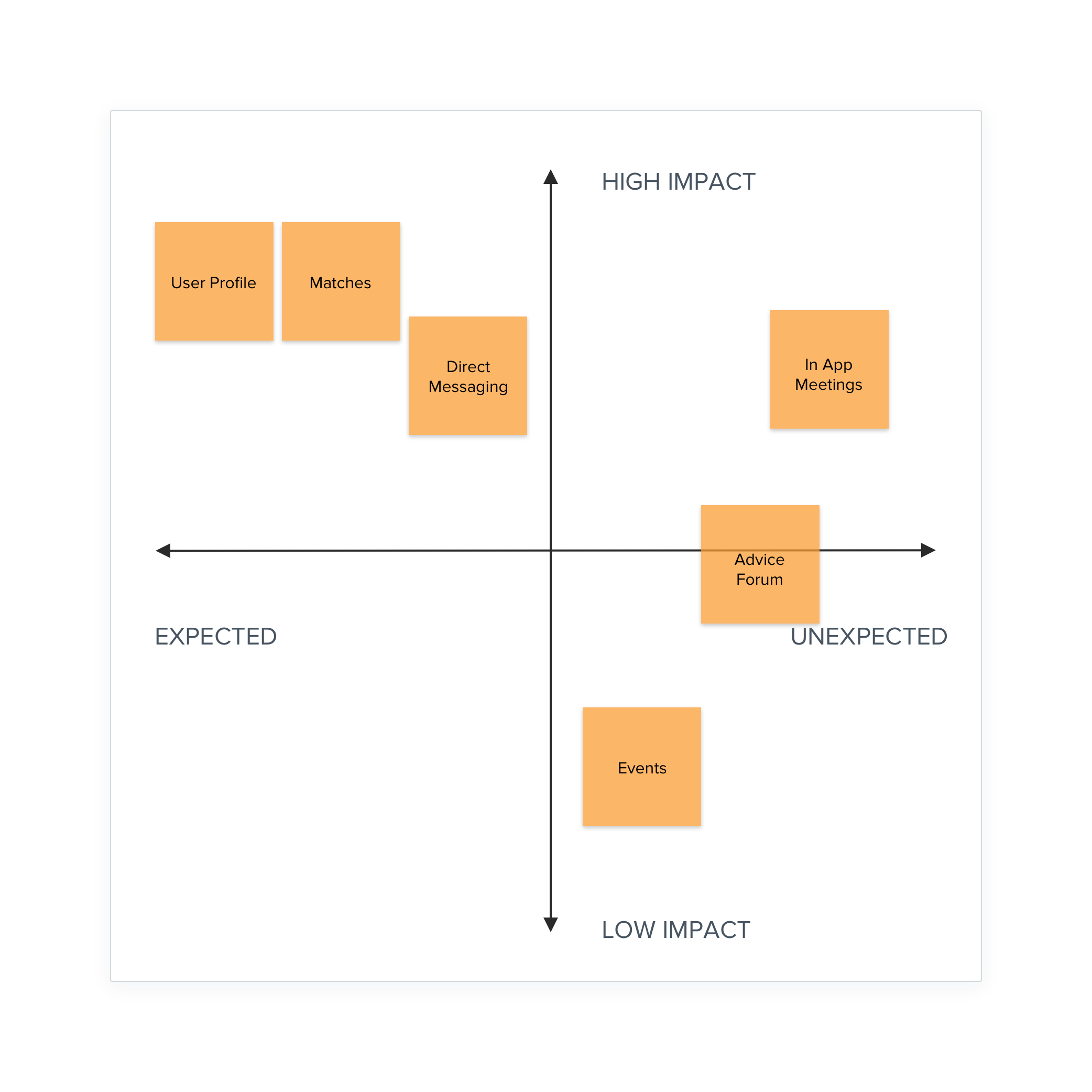 Impact/Effort Matrix for App Features
After the research phase, I moved into Information Architecture (IA). Based on the competitive analysis and interviews, I had an idea of the app's features. This process helped me understand how VisionMent can be different from anything in the market at the time by seeing which features, expectations and impacts.
Open Card Sorting
Since we were starting from scratch, we decided to do in-person card sorting. Participants were given prepared cards with features. They were tasked to group the cards and this information and define each group by labeling them. This activity helped me understand how users expected to see information grouped in the app.
Feature Prioritization - Now, Next, Future
Next was feature prioritization because I wanted an idea of which features were a must-have versus nice to have for MVP.
Now
User Profile - All users will have a user profile where they can list their work experience and interests. This feature is a must, so users can get a sense of who they can connect with and see if the user fits their needs at the time.

Connections - A list of references made within the app.

Calendar - Users can see upcoming events in their area and see what is upcoming on their calendars. Post MVP users will be able to join scheduled in-app calls and video calls.
Next
Additional Connections (Buddies) - Adding users to your network as Buddies versus just mentorship connections.

Community - Forum base community where users can discuss the creative industry and career progression.

Resources - Articles, Videos, and Podcasts created by VisionMent's team and featured creatives.
Future
Premium Perks - in-app purchases and access to career materials and exclusive virtual and in-person events.

Salary Reports - Users can submit their salary into VisionMent's salary database. This will help with pay transparency and encourage negotiation of their worth.

Group Meetings - More than two users can join a video call at one time within the app.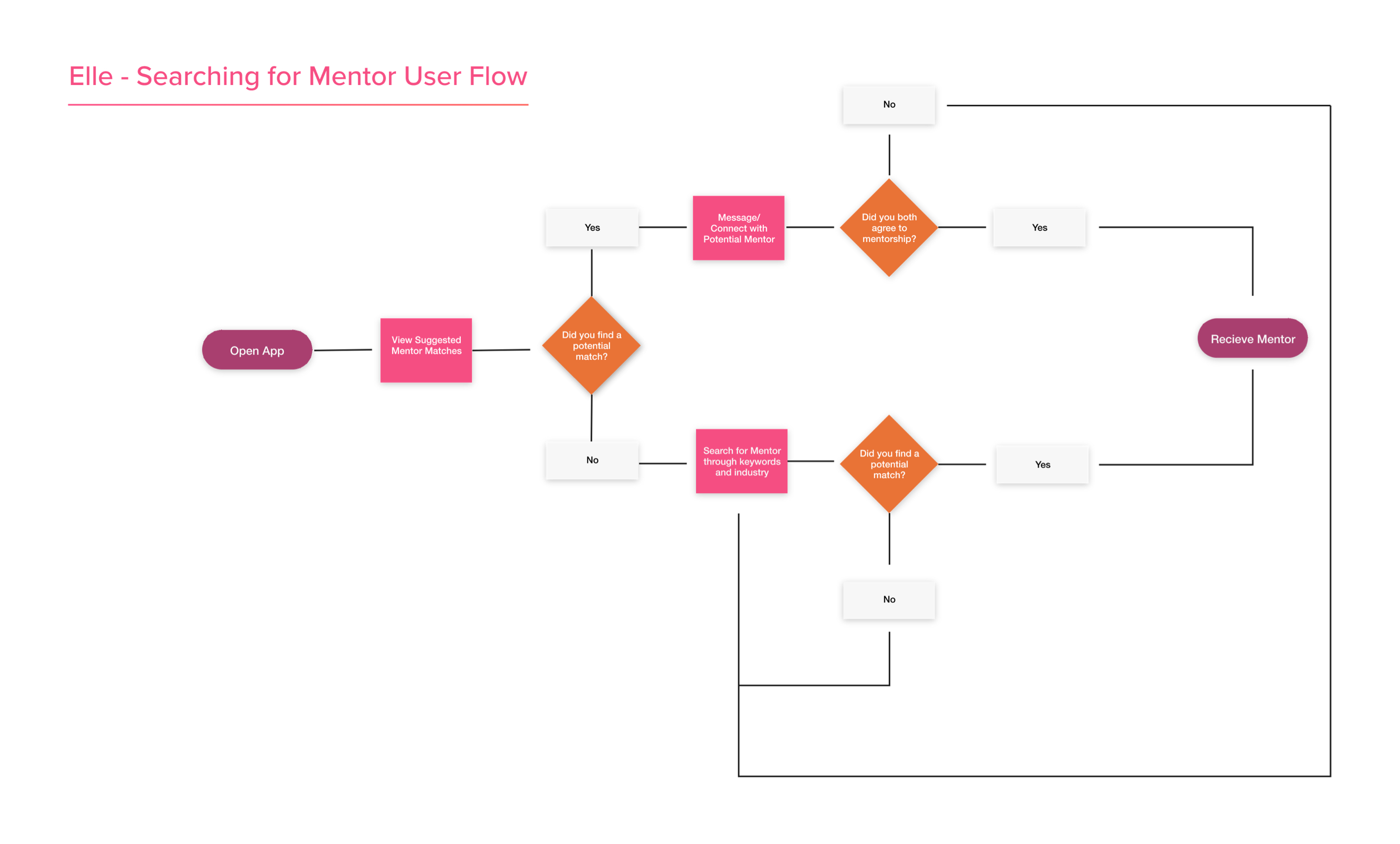 User Flows - Mentorship Matching
Before starting on wireframes, I decided to do a user flow for users looking for a mentor/mentee. Doing this step helped with understanding the user's actions to get matched and the logic behind finding a mentorship match. Creating these flows assisted with determining how many screens would be needed for the mentorship matching portion of the mobile app.
Low-Fidelity Wireframes
The First step in the design process was to create low-fidelity wires to map out the content on each screen. After completing the shells of each section, I decided to do user testing. I made sure to address the feedback in the hire fidelity screens.
User Feedback
Body text is hard to read due to the text size.

What does the message feed page look like? We would like to see the functionality.

Adding events to a personal calendar is not clear.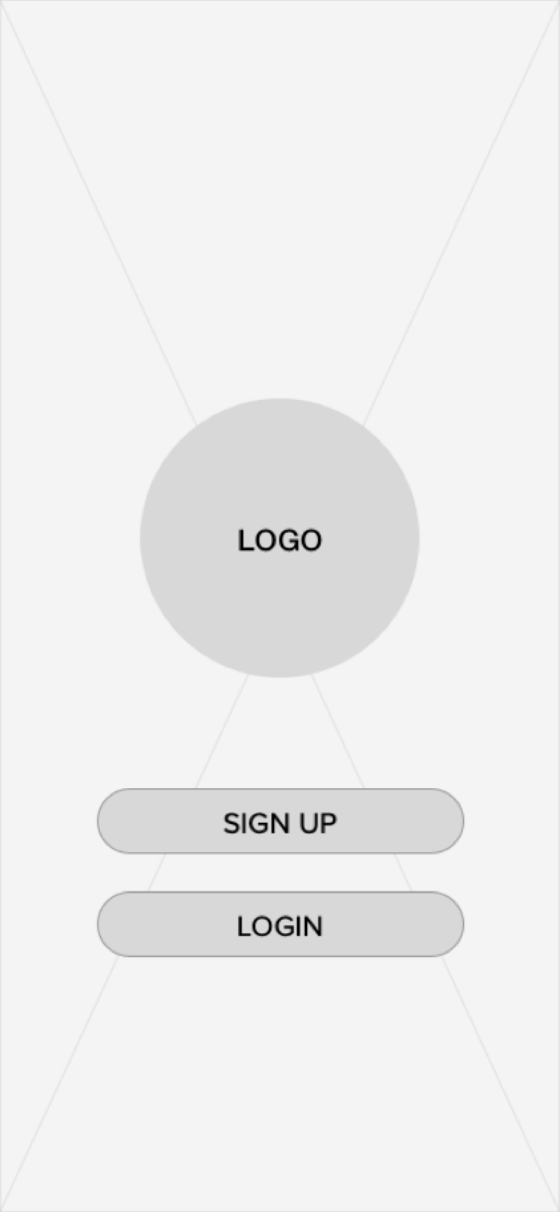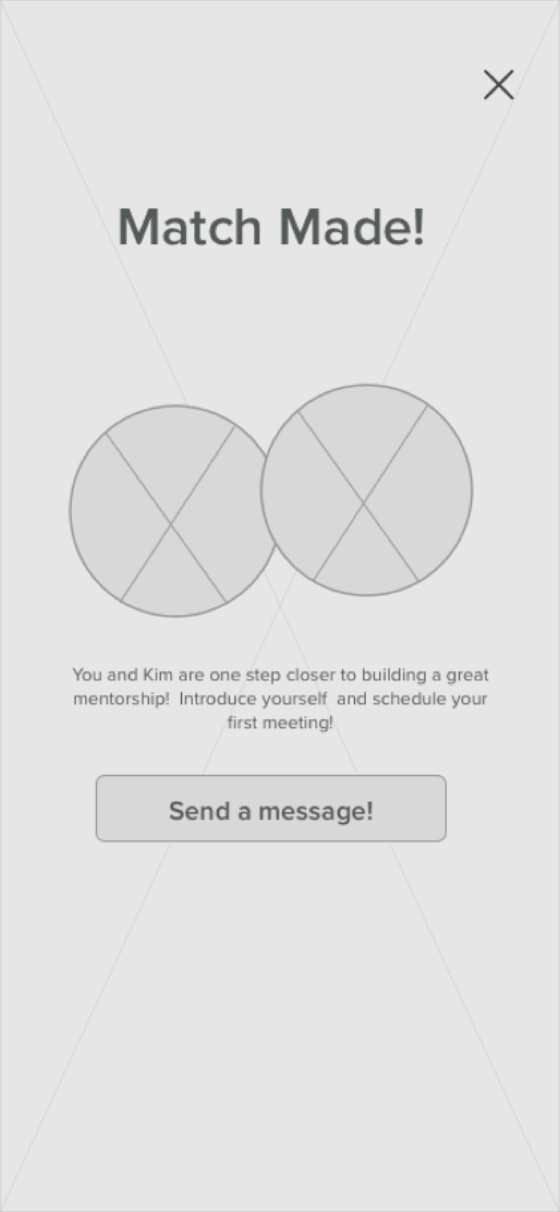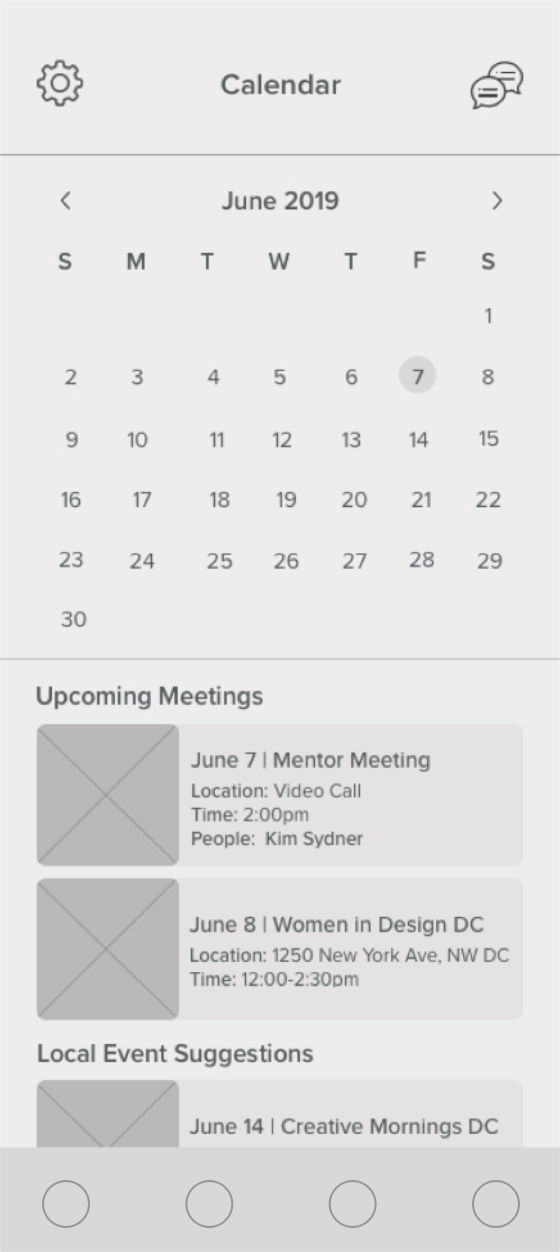 Final Designs
The UI design was inspired by the women creatives I spoke with during interviews. The final feel of the design is playful, modern, and feminine. This was accomplished by playing with bold and bright colors (pink, purple, and orange) used throughout the app. Also, Proxima Nova used the font choice for the headers and body text.
What to explore and interact with the final design more?
You can access the clickable prototype here.